Remember to refresh (Ctrl-F5 in IE) your browser for the most recent data.



My lightning detector is a home build Dallas 1-wire detector. The circuit board was obtained from Jim Jennings in the US. You can buy it as a kitset and solder it yourself as I did or get Jim to send you a made up one. You will also need to buy a 1-wire com port adapter, PVC piping and wire.
Here is a shot of the finished circuit board ready to go into the PVC case.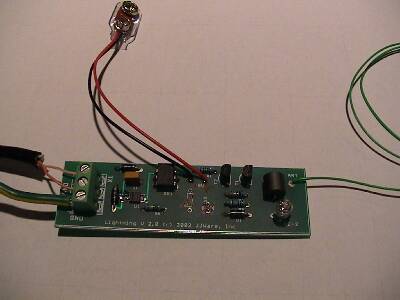 | | |
| --- | --- |
| | |
| Here are plans for the PVC piping. | The detector installed on the weather mast. The higher it is installed above the ground the greater the range of detection. |
| | |
| --- | --- |
| | |
| The earth cable connected to the ground earth of the house. It is very important that you have a good earth. | The 1-wire com port adapter connected to the RS-232 port on the back of the computer. |
Here is how it all connects together.